Bike Rental in Javea
Where can you rent a bike in Javea? The answer is Javea Fun Bikes down on the Arenal. They are very friendly and offer the whole package - bike, helmet and friendly service.
You can choose mountain bike, racer, tandem, bike with a child seat, and bikes of the right size for you whatever your size or age. You can also rent those little cart style bikes that the whole family can pedal together.

The cost ranges from 3 euros an hour to 60 euros a week.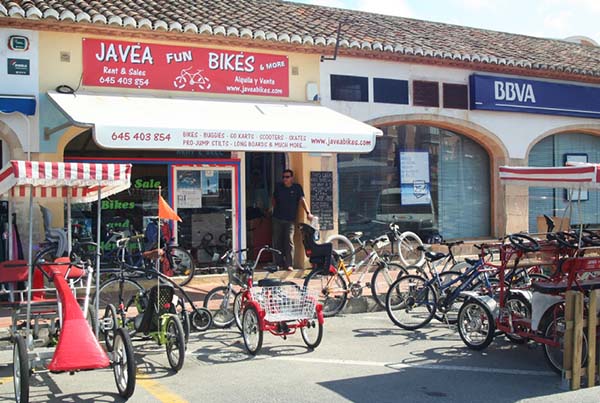 Easy to find they are located next to the BBVA Bank just behind Arenal Promande and can be called on 645 403 854. Here is a link to the Javea Fun Bikes website

.
Javea Tapas - a review of El Clavo
Javea Fiestas - Moors and Christians, Festival of the Port and more
Javea Parador - on Arenal Beach
Javea Restaurants - the best restaurants in Javea reviewed

3 Bedroom Javea Villa Rental
4 Bedroom Javea Villa Rental
5 Bedroom Javea Villa Rental