The Mystery Villa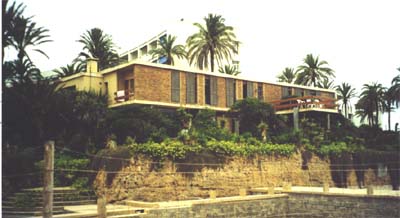 Next time you're on the Arenal Beach take a look at the Parador. Look closely and next to it you may see the mystery villa.
The swimming pool is supplied by water from the sea, it has a direct channel in from the sea so boats can tie up at home, and like the Parador next door it has Roman ruins in the garden.
The views must be amazing - floor to ceiling windows right out onto the sea. But why is it in such a state of disrepair?

Well, the story I am told is that the Villa was given to the Minister for Tourism under Franco's regime by the Town Council, as a gesture of thanks for giving the order to build the Parador in the town. Now of course that Minister is very old but the terms of the gift were that he could use it during his lifetime, but once he died it would be returned to the council. So he doesn't feel like spending on it when he won't keep it. It's what I've heard anyway.
You should visit because it's very eery and intriguing to think just how fantastic it would have been twenty years ago. You can view it by walking behind the Parador and along the sea wall. Why not stop at the Parador and have a drink on their terrace while you're there. The Roman ruins that can be found in both places are the remnants of the Villa built for the Roman Commander of the area - now imagine that - a villa on the arenal with no other buildings on it at all.
Go to our Javea Parador page with information on rates and facilities at the Parador de Xabia