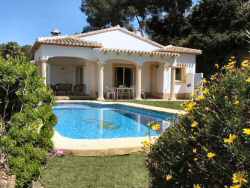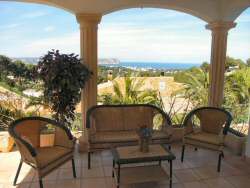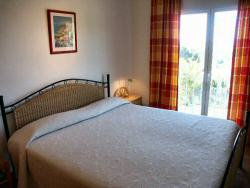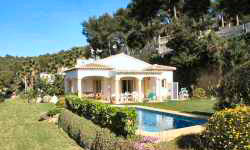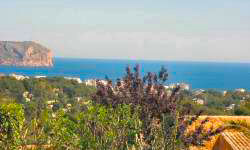 Area: Costa Nova
Bedrooms: 3 Doubles
Bathrooms: 2
Pool: 10m x 5m
Garden: Mostly Lawned
TV: Cable & DVD
In the winter there is a charge of £60 for the first 2 large bottles of gas, extra gas charged as used.

This beautiful villa is situated in the Costa Nova area of Javea. Standing in secure grounds with plenty of grassed areas and a shaded naya, it is the perfect place for the children to play whilst you relax and enjoy the superb views over Javea, the Montgo and the sea.
The entrance hall into the villa leads into an open plan living room, dining room and American style kitchen, separated by Tosca archways. The living room is bright and tastefully furnished, and offers satellite television and a CD player for your enjoyment. The kitchen is equipped with all 'mod-cons' including a microwave and a dishwasher. There is also a separate utility room housing a washing machine. The dining room has seating for 6 and leads into the covered naya, also furnished to a high standard, where again you can enjoy the views or watch the children playing in the pool.
A hallway from the living room takes you to the three double bedrooms. One bedroom has an ensuite bathroom, one has an ensuite shower room, and there is also a separate shower room. All the bedrooms have ample wardrobe space and enjoyable sea views.
The garden has an 8m x 4m swimming pool with Roman steps, a shower and plenty of sun loungers for those lazy hours in the sun. There is a barbecue and ample terrace for dining 'al fresco'. There is a restaurant within walking distance and Javea's wonderful beaches, shops and historic town are only a few minutes away by car.

La Vista 2009/2010
Deposit of 25% is required to secure reservation.
Balance due 8 weeks before holiday.

31 Oct 2009

£ 325

3 July 2010

£ 1,100

2 Jan 2010

£ 450

10 July 2010

£ 1,100

9 Jan 2010

£ 450

17 July 2010

£ 1,250

16 Jan 2010

£ 450

24 July 2010

£ 1,400

23 Jan 2010

£ 450

31 July 2010

£ 1,400

30 Jan 2010

£ 450

7 Aug 2010

£ 1,400

6 Feb 2010

£ 450

14 Aug 2010

£ 1,400

13 Feb 2010

£ 450

21 Aug 2010

£ 1,400

20 Feb 2010

£ 450

28 Aug 2010

£ 1,100

27 Feb 2010

£ 450

4 Sept 2010

£ 1,000

6 March 2010

£ 450

11 Sept 2010

£ 800

13 March 2010

£ 450

18 Sept 2010

£ 650

20 March 2010

£ 450

25 Sept 2010

£ 450

27 March 2010

£ 650

2 Oct 2010

£ 450

3 April 2010

£ 650

9 Oct 2010

£ 450

10 April 2010

£ 500

16 Oct 2010

£ 450

17 April 2010

£ 500

23 Oct 2010

£ 450

24 April 2010

£ 500

30 Oct 2010

£ 450

1 May 2010

£ 500

6 Nov 2010

£ 450

8 May 2010

£ 550

13 Nov 2010

£ 450

15 May 2010

£ 650

20 Nov 2010

£ 450

22 May 2010

£ 850

27 Nov 2010

£ 450

29 May 2010

£ 750

4 Dec 2010

£ 450

5 June 2010

£ 750

11 Dec 2010

£ 450

12 June 2010

£ 800

18 Dec 2010

£ 650

19 June 2010

£ 800

25 Dec 2010

£ 650

26 June 2010

£ 950




To check availability click here (opens in new window)
To make an enquiry use our enquiry form

Tourist information about Javea click here
Javea Webcam click here
Javea Restaurant Reviews
Javea Car Hire - pick up from Alicante airport - the easiest and best service
Map of Javea click here (opens in a new window)
For extras like arrival packs, dvd hire, mobile phones, babysitting, cots click here